Delicious Food I Saw
I read a ton of blogs.  And here is just some of the delicious food that caught my eye this week.
I hope you enjoy the recipes as much as I did!
Kiss My Broccoli's Super Fluffy Peanut Butter Carob Chip Pancakes
MY OTHER RECIPES
Jenny's Itty Bitty Cinnamon Roll Bites
Emily's Frosted Doughnut Sugar Cookies
Holly's Roasted Vegetable Tart (i.e. The Tart of No) and post on Saying No
Jessica's S'mores Cake in A Jar
Angela's Taco Chili with Nacho Cheeze Sauce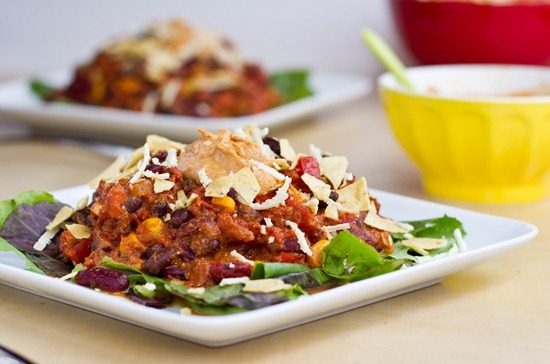 Holly's Pumpkin Pie Doughballs

Paige's Homemade Oatmeal Creme Pies
The Little Yellow Kitchen's Lemon Meringue Bird's Nests
If you missed last week's Soup, Salads, Dips, & Savory Fare
or the Delicious Desserts roundup from the previous week, check those out, too.
Great Reads This Week:
Helen of Tartlette's Photo Composition Tips from Food Blog Forum Orlando
LaTartine's Gourmande's Turks & Caicos Post
Congrats to my awesome friend Katie, the Doctor, as she explains the Process of Getting a PhD
From my last post about Hair Products I Use, thanks for filling me in on some of your favorites.  I'm glad the beauty and hair product junkies readers came out to comment.  It's not just food and games around here.  I like to talk hair and MAC Makeup, too.
And okay, chocolate talk is a beautiful thing, too.
No Bake Vanilla Cake Batter Chocolate Truffles
Questions:
1. Have you seen any great recipes lately around the 'sphere or made anything recently that you're especially proud of?
2. Weekend Plans?
I'm working, and Scott is going to be home.  After a week of single parenting and working fulltime, I'm ready for a break and some help!
And we may go on some Easter egg hunts (the plastic variety) and the Easter Bunny will  probably stop by with a Easter Basket goodies.

Happy Easter, Happy Passover, and Happy Earth Day (belated)!