What I'm:
What I'm reading:
What I'm eating: a big salad with Orange Coconut Lemon Pepper Vinaigrette Salad Dressing

and Green Tea & Honey Ginger Tofu
MY OTHER RECIPES
What I wish I was eating: Nutter Butter Special K Bars (No Bake)
If you like peanut butter + chocolate, these are for you.  They weigh about 3 pounds each.  Super.Dense. <–and I love that.  I just don't have any made up and on hand.  Darn.
What I'm going to do this weekend: This Tasting Festival
What I'm coveting: These Plates from Anthro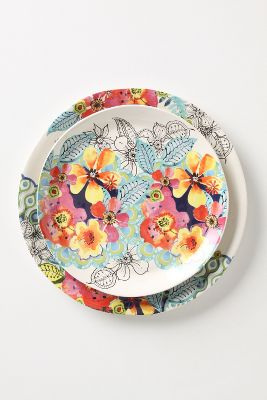 What I have lots of: MAC Makeup
But I always "need" more.
What I wish I had more of: Time, money, and sleep!  And camera/photography gear.

What I'm drinking: Vanilla Iced Coffees.  Like they're gong out of style!
What I'm going to do right now: a run outside
76F, sunny, light breeze.  Perfect.
What I enjoyed in my inbox: your comments on my last post, KISS, and hearing what you're keeping simple or trying to simplify.  And yes, KISS doesn't always end with 'sweetie', ahem.  As some of you pointed out in the comments.
What has overflooded my inbox: your entries to the Summer Tea Time Giveaway.  Open til tomorrow only (my next post) Get your entries in now!  Flooding my inbox is permitted.
Questions:
Pick Two and Fill in the blanks
What I'm:  _________________.
What I'm:  _________________.
Have a fabulous weekend!