Thursday Things
Time for this week's Thursday Things:
1. It's Skylar's first day back to school today, Thursday. She's a big girl now and in first grade. I don't even know where the last five years have gone.
We went to an open house at her school Wednesday evening and everyone's feeling a lot calmer and more settled about things after doing a dry-run. Here's where your lunch box goes, here's your desk, and so forth.
Last year on her first day, it was me that was the bundle of nerves. I didn't know what to do with myself while she was at school and thought that making pink cookies for my pink-loving princess as an after school treat seemed like a good idea. Apparently it was because she still talks about the time I made pink cookies for her.
Strawberry Cookies with Vanilla Cream Cheese Frosting
MY OTHER RECIPES
2. While little girls go back to school shopping for pencils and crayons, big girls would like to go shopping for this platter, $58 from Anthro.
I had it in my hands earlier this week in the store but exercised restraint and put it down. But I've been thinking about it ever since. That means I'm supposed to go back for it, right?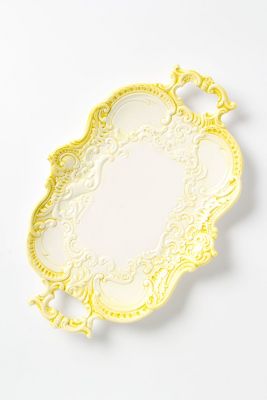 3. President Obama has been brewing his own beer at the White House for a while now. The beer, called White House Honey Ale, is brewed with honey from Michelle Obama's garden beehive and has recently popped up on the campaign trail. A petition was started demanding the recipe be released to the public. 25,000 signatures are required and there's about 4,941 signatures so far, with September 17 being the deadline to meet the quota.
Regardless, I kind of doubt they'll be sharing their secret brew recipe.
4. I'll share my brew recipe. It's called kombucha and it's really easy.
Homemade Kombucha (also here and here)
5. Perpetua Tray from Pottery Barn, $108
It would be a beautiful serving tray for holiday parties. And it would also do double-duty as a fabulous surface for food photography since I don't throw too many martini parties these days. Or ever.
6. Cream Cheese Cinnamon Rolls from Saveur
They look delicious, but the recipe looks like a fair amount of work.
7. Cinnamon Bun Pie. Almost no work and eady from start to finish in a half hour.
I put these up against Cinnabons, which are my own gold standard for carby, comforting, white dough with zero nutritional value.
8. The aubergine wine goblets in this photo are on sale. A set of 4 for $23.96
I really want the chandelier but the purple glasses would do.
9. Want to drop a grand on one knife? This Henckels Santoku can help. It's now on sale from $1695 to $999.95
"Made of true Damascus steel, this knife is not only the first German made Damascus knife but also the first forged Damascus knife with a bolster from a single piece of Damascus. Made of 160 layers of hand-folded steel it results in a blade that is exceptionally hard and durable. This hollow-ground santoku knife chops, slices and minces meat, fish and veggies."
I use my 7-inch Henckels Santoku every day, about 10 times a day. It's the number one knife I reach for.
It's a Henckles but it's the $85 version, not the $1000 version. I always wonder what exactly makes a knife from the same company, that's the same length (7-inches) and the same style of knife (Santoku) so radically different in price?
$85 versus $1000.
10. Thanks for the Capresso Froth Plus Automatic Milk Frother Giveaway entries
What are your Thursday Things?
If you've made anything, done, seen, or bought anything fabulous recently, feel free to link it up in the comments.
Do you have a favorite knife? What do you love about it?