Thursday Things
Here are this week's Thursday Things:
1. These Villeroy & Boch dishes. My mom was obsessed with Villeroy & Boch when I was growing up. I thought everyone ate on circus-themed plates and I didn't see the big fuss.
Fast forward a quarter century, I see the big fuss. I've turned into my mother.
2. Have iPhone pictures you wish you could get developed? Try PostalPix right from your phone using their App.
MY OTHER RECIPES
3. Last week I mentioned trying to find a use for all my old coffee cans and glass jars that I've accumulated from from various condiments or anything that comes in glass.
Use them as picture holders. Easy to rotate and swap in and out, and they give pictures a snowglobe effect.
4. My iHerb order arrived. Until March 31, iHerb is increasing their normal $5 discount to $8 on your order. Enter code AVE630 at checkout.
Items I always purchase from them are probiotics, nutritional yeast, and stevia. Shipping is free on all orders over $40 but right now it's free on orders over $20. And normally when you spend over $40, they start deducting additional savings from your order, i.e. spend $50 you get an additional 5% off, spend $60 you get an additional 6% off, and so forth. Don't quote me on the exact specifics because they tend to rotate their "specials" and their deals of the month, but iHerb is hands down the cheapest source and fastest shipping (even the free shipping is usually only a 1 to 3 day wait from time you place the order) for anything from vitamins to bulk cinnamon and spices that I've found.
5. I love this book. I discussed it in depth here. If you like sweet desserts and are up for some kitchen adventures with mind-expanding (and waistline-expanding) recipes, you'll love it too.
6. I did a Cookbook Reviews post ages ago and I have tried to keep it (somewhat) updated based on newer cookbooks I've received.
I read cookbooks like most people read novels. I curl up on the couch with a cup of coffee or lay in my bed with a bowl of popcorn and read the book, page by page, so that I don't miss any crucial factoids that I just couldn't live without. For instance, Christina Tosi of Milkbar uses Pam cooking spray, King Arthur Bread Flour as her all-purpose flour, and thinks sifting flour is a waste of time. If I didn't read her book novel-style, I may have missed those earth-shattering revelations.
7. This bedding would make me feel like I'm sleeping on a puffy cloud. I think I want it.
This bedding would make my husband feel like he was sleeping in a Disney princess movie. He may not want it. (But I win on household decor choices and he nods and says, Yes Dear)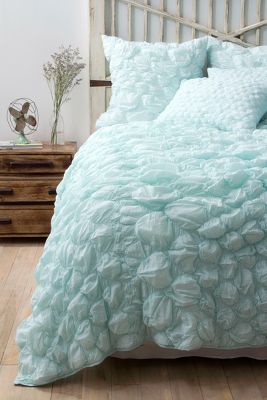 8. I went to the store and picked up a stuffed plush Easter bunny and a few Reese's Pieces chocolate eggs for Easter Bunny loot to be sprinkled around the house Sunday morning.
I always wonder if I'm doing "enough" to make the holidays fun. There's the religion aspect, the fun get into the spirit aspect, and there's also the going overboard aspect. I try to strike a balance.
9. Have you seen Christi's roundup of Peeps posts from various blogs? Too cute.
10. Need a last minute 10 minute, no-baking "baking project" before Easter?
Try  "Egg"-in-a-Nest Stuffed Peanut Butter Cookie Dough Bites (No-Bake, Vegan, Gluten Free). Use M&M's, raisins, an almond, whatever you have on hand to use for the "egg" and it's the dough itself that really counts so if you have nothing around for stuffage, you can always just eat cookie dough. Wouldn't be a problem for me.
Do you have Easter plans if you celebrate it?
Do you love reading cookbooks or have any current (or longstanding) favorites?
I'd imagine that food blog readers also read food magazines (Bon Appetite, Saveur, etc.) and their fair share of cookbooks.
Even if I don't cook recipes from them, or follow them closely or at all, I am inspired from cookbooks, food blogs, food magazines, and Pinterest, too.
Anywhere there's a recipe, I am always thinking, hmmm, would I like that? Would I follow it as written (no!) and what would I change and how.
I love reading the author's factoids and reflections like creaming butter and sugar together for a long time (7-8 minutes) is key in cookie-making or shortcuts around tempering chocolate and fun little factoids.
It's almost Friday!