Time for this week's Thursday Things:
1. Vanilla Bean Sampler – 3 beans each from 9 countries = 27 beans for $44.95
Mexican
Ugandan
Indonesian
Tongan
Indian
Bourbon (Papua New Guinea)
Tahitian (Papua New Guinea)
Tahitian (Tahiti)
High quality beans for less than $2 bucks each? Score.
I love vanilla in anything. From body spray to candles to….
2.
…Cookies!
Puffy Vanilla Peanut Butter Chip Cookies
3. These lamps from Pottery Barn – love the eggplant base and the rustic burlap shades
4. I heated some milk for a recipe I was working on, forgot about it, and a skin formed. Milk skin. Lovely.
But it going me thinking and I researched what milk skin actually is.
When milk is heated, the water the starts to evaporate and the other elements, namely protein and fat, become increasingly concentrated. The proteins – casein and whey – also have a tendency to coagulate once the milk reaches a temperature of about 150°F.
Stir more and the problem is solved. More than you ever wanted to know, but I like food trivia.
5. Congrats to the Top 100 Mom Food Blogs 2012
Many of friends are named in this list – nice going, ladies!
I didn't make the list but Skylar still thinks I'm a Top Mom. She thanked me yesterday for making her hair look cute and told me I was the best mom ever. I melted.
6. I have tomato jam and chutney on the brain and need to make my own.
My inspirations include:
Spicy Tomato Peach Jam from Lindsay
Spicy Heirloom Tomato Jam from Brandon (a fellow San Diegan – I told him I'd buy it off him)
Tomato Chutney from Liz (also a fellow San Diegan – and I'd buy hers, too)
Clearly I need to make my own.
7. Would you like 2 boxes of the new Cascadian Farms Ancient Grains cereal?
Made with whole grain oats, crisp rice, a bit of brown sugar and cinnamon, a touch of quinoa, spelt and kamut khorasan® wheat, our Ancient Grains Granola is an excellent source of fiber while also packing in 35 grams of Whole Grains per serving and 5 grams of protein
Leave a comment on this post telling me at that you'd like to be entered in the giveaway and what your favorite cereal of all time is.
I'll announce the winner in my next post.
8. I've been thinking about something gooey with caramel and chocolate all day and these came to mind.
Caramel and Chocolate Gooey Bars (GF with Vegan adaptation)
9. Enamel-dipped servers from Antrhro – $36 for the pair which I think is a great price.
They remind me of something Tiffany without Tiffany pricing and for Anthro, pretty darn cheap.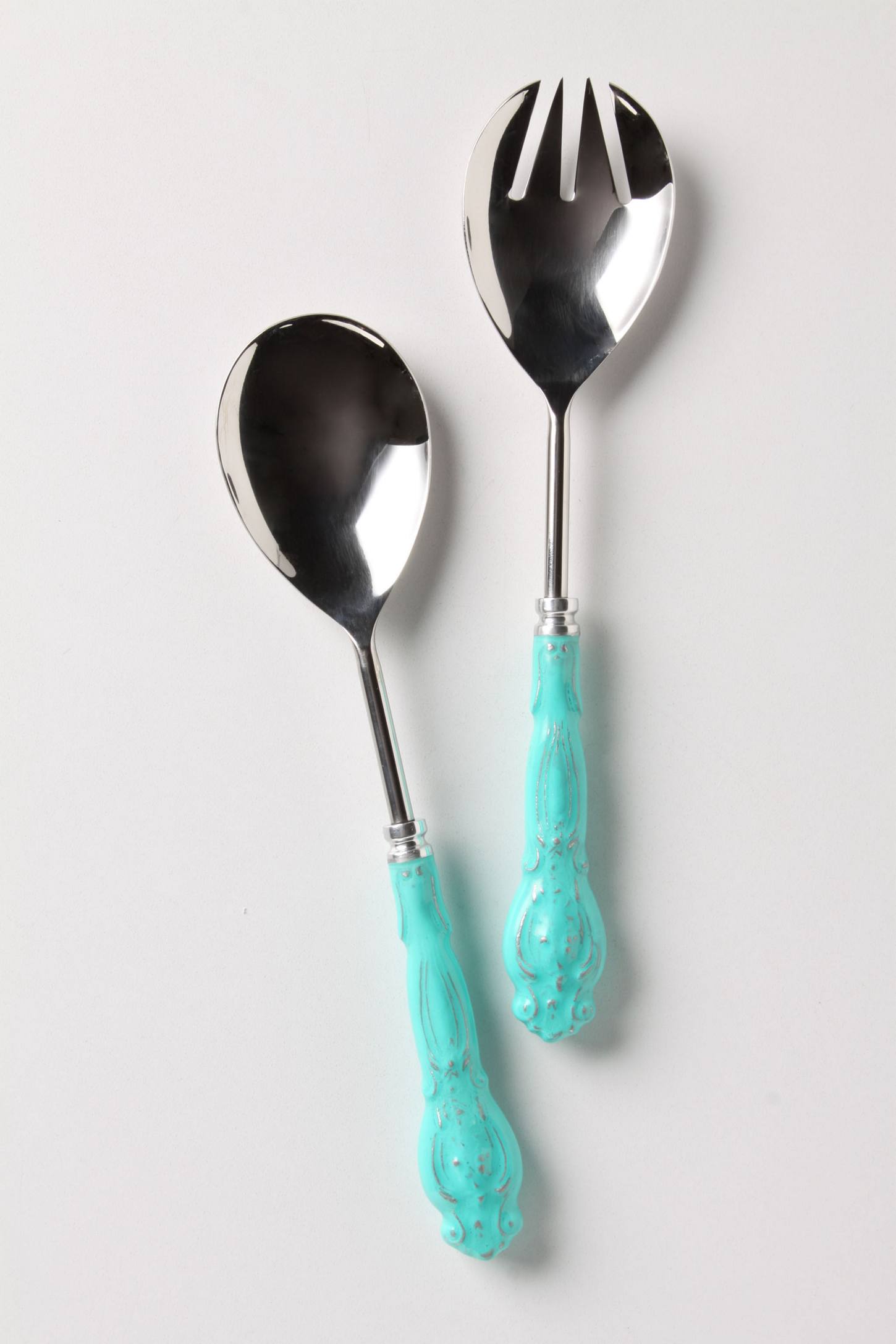 10. The winner of the Magimix by Robot-Coupe Food Processor & Juice Extractor Giveaway (1000+ entries later)
is…
Michele Sparrow July 5, 2012 at 11:23 pm
I think the first thing I would make in the food processor is a homemade salsa or some kind of coconut yogurt. That processor is AMAZING!!
Congrats, Michele!
What are your Thursday Things?
If you've made anything, done, seen, or bought anything fabulous, feel free to link it up in the comments.
Do you like vanilla or ever make your own vanilla extract?
Yes and yes.
Split open 3 or 4 vanilla beans, put them in a tall jar with 1 cup of vodka with a lid like a canning jar, let them sit for at least a month, probably 6 to 8 weeks, shaking the jar a couple times a week.
In two months, you have vanilla extract. You can strain out the seeds if you want before you use it, but don't. They are little flavor bombs – keep them and your food will have flecks of real vanilla beans in it; so pretty.
Top off your jar with more vodka and keep the cycle going. Add more vanilla beans every now and then.
Voila, homemade vanilla extract for a fraction of the price of storebought.
You can also use rum (dark or light) or bourbon, but they are not as clean-tasting as vodka. Sometimes not clean is a good thing though.
Thanks for the Zoku Quick Pop Maker and Chocolate Station Giveaway entries