Time for an installment of Friday Things:
1. Bon Appetit's Vegas Uncorked – May 9—12, 2013. "To mark its seventh anniversary, the famed resorts of Las Vegas have assembled an unparalleled collection of celebrity chefs, master sommeliers, and cutting-edge mixologists. Vegas Uncork'd—an homage to their skill, their cuisine, and their fans—is an exclusive opportunity to not just taste their food, but to rub elbows with them throughout four days of unique events."
I haven't been to Vegas in ages and I bet the event would be incredibly fun. It's Vegas. How could it not be fun?
In November I was in Barbados for Food & Wine's Rum Festival and watching the celebrity chef's in action in a stunning location was an amazing experience.
2. Laura did a Vanilla Cupcake Comparison and tested seven different recipes with as much detail, precision, re-testing, and scientific process as any homecook I've ever seen. She was literally the at-home version of Cook's Illustrated
(one of my top 5 go-to cookbooks) with her extremely detailed approach to what makes a good cupcake, what makes them work, fall flat, become dry, tasteless, or become wildly successful.
Some surprising hits and misses, along with recipe recommendations. A must-read post for anyone who enjoys baking science.
3. I've been obsessed with cremini, or baby bella, mushrooms lately. Did you know that most of the table mushrooms we eat are all of the same variety? Its name is Agaricus bisporus and it includes portobello, cremini, and white button mushrooms. The difference between these popular varieties of mushrooms is just age.
White button mushrooms are the youngest variety. They're cultivated for their white color and soft texture.
The portobello is the most mature mushroom and it's really just an overgrown white mushroom. They are left to grow for longer, until they have spread out into that meaty cap.
The cremini mushroom is in between these two varieties. It's a moderately mature version of the white button mushroom, which is why it has a similar flavor. It's younger than the portobello, but still related, which is why these are sometimes sold as "baby bella" or "baby portobello" mushrooms.
Images are from my Mushrooms post and the Day of the Mushroom post. Every food has it's own national holiday, even 'shrooms.
4. Pass Down Your Photos, Not Your Hard Drives – Tips to rescue your photos from being banished to hard drive obscurity. Can you relate to this? I sure can. My daughter's life is cataloged not in photo albums, but on zip drives. Her birthday parties are right next cookies and cakes and if I'm not careful, one day as I'm deleting four year old photos of slices of cake with horrible lighting, I'll delete the fourth birthday party, too. Or lose it all together in a forgotten about box that's shoved into a storage locker.
"I have a reoccurring nightmare. My son is getting married, and he wants photos for the wedding slideshow. With a look of shame I hand over my box of outdated hard drives with useless titles like, Edmund, Rory the Roman, and T-Rex. Decades of photos so poorly organized trying to find a good one plays out like the plot to Treasure Island. I always wake in a cold sweat swearing that I'll start printing my photos."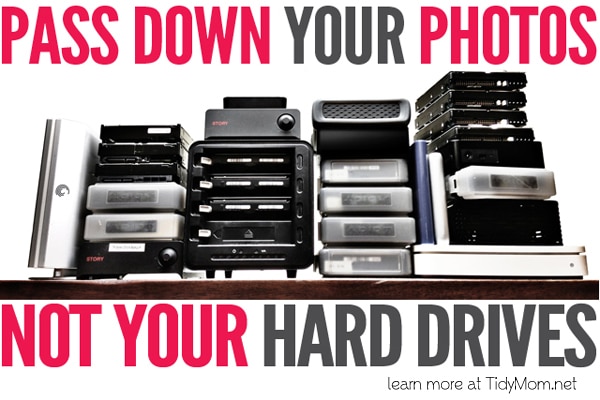 5. The Just Like Heaven tshirt and the Love Struck Leggings from Ellie. They have a rotating stock of workout gear for running, yoga, and if you're like me, regular life clothes. Yoga pants are pretty much the only pants I wear.
Their stock rotates monthly with fair prices. There are no cough-cough $150 pairs of workout pants on their site but the quality is good, the fabric is soft and stretchy, and so far, it's held up nicely. Something about spring always makes me want to re-vamp my workout wear. Or shall I say, my 'wardrobe' since I live in my workout-wear. I'd rather be comfortable than in tight jeans.
6. Honey-Vanilla Teddy Bear Challah – The cutest bread I've ever seen
I love my Challah recipe because it's as soft as ccroissants, fluffy, and nearly no-work yeast bread, with dough that can be made up to a week in advance and just hang out in your fridge until you're ready to bake it. It's just not as cute as that bear.
7. These Overnight Buttermilk Soft and Fluffy Cinnamon Rolls may not be described as cute either, but holy moly they were good. Put them in a pan Friday or Saturday night and wake up to glorious weekend morning breakfast the next day.
8. I recently posted about Juicing and that I almost never juice anymore because of juicer cleanup and it being such a pain. Cooks Illustrated recently came out with reviews on 6 popular electric juicers
Ironically, I owned an upgraded model of their winning model, the Breville JE98XL Juice Fountain Plus 850-Watt Juice Extractor
. Mine was a Breville 800JEXL Juice Fountain Elite 1000-Watt Juice Extractor
, which is an all stainless steel and slightly fancier version with a few more bells and whistles than their winner, but I gave it away about six months ago because I just wasn't using it. Whoops.
But I still have a couple other juices I can dust off. Ironically, my husband has been asking me to start juicing again. He's gone from meat and potatoes to kale, cucumber, and ginger juice in the span of our relationship. I never saw that coming.
9. How to Pick the Best Avocados – Avocados don't ripen on trees. Instead, they ripen or soften after they have been harvested. Skin color is one clue to ripeness, but is ultimately determined by pressure.
Color can sometimes be misleading as avocado "softening" can occur at varying rates, independent of the color.
I went on an Avocado Tour last spring and learned all about them
10. Vanilla Avocado Banana Ice Cream (Raw, Vegan, GF) – Rich, creamy, sweet, very ice cream-like, and no ice cream maker needed.
People write saying they enjoy the healthier ice cream and that it doesn't 'taste like avocados'. Instead, the avocados lend richness, fattiness, and smoothness. And their color is perfect for St. Paddy's Day.
Sort of like how Soft Batch Dark Brown Sugar Coconut Oil Cookies don't taste strongly of coconut. Must be something about those healthy, plant-based fats.
What are your Friday Things?

Do you juice or want to? Fan of mushrooms or avocados?
When were you in Vegas last? How are you with printing out your photos? Favorite workout-wear?

If you've made anything, done, seen, or bought anything fabulous recently, feel free to link it up in the comments.
Have a great weekend and check back for giveaways!