Hi Bloggies, how are you? I am still recovering from my errand mania that I went on yesterday. I didn't fully intend for it to turn into that kind of day, it just kinda happened. And my wallet is lighter now. It's amazing how Target, TJ's, and the grocery store will relieve one of hundreds of dollars, quickly. I'll post over the weekend some of my finds.
Did you know that kombucha has been taken off the shelves of Whole Foods because of slightly higher than reported alcohol levels?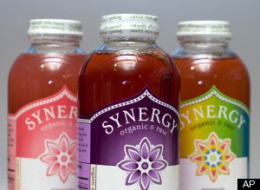 (source)
AUSTIN, Texas — Whole Foods is removing a fermented, sweetened tea called kombucha from its shelves because of concerns over slightly elevated alcohol levels.
Whole Foods spokeswoman Kate Lowery said Thursday that a couple dozen kombucha suppliers agreed to a voluntary withdrawal of the products after conversations indicated the alcohol levels may be elevated.
She did not know how much alcohol the drinks contained. Product containing 0.5 percent or more of alcohol must carry a government warning.
Lowery said the Austin-based company is working with suppliers "to review these potential labeling issues for a swift resolution."
California-based Millennium Products Inc., which produces a dozen varieties of kombucha products including GT's, sold at Whole Foods, did not immediately return a call or e-mail from The Associated Press on Thursday.
Whole Foods has more than 290 stores in the U.S., Canada and the United Kingdom.
Just google Whole Foods + Kombucha and there are hundreds of online stories about it.
Tonight or over the weekend I found a woman locally who has an organic Scoby she is going to give me! That way I can start making my own kombucha! This is something I've wanted to do for a long time, it interestingly enough just happens to coincide with the WF's situation. Sort of like that psychic, ESP, universe serendipity that I mentioned I am prone to experiencing.

What's a Scoby?
Kombucha culture looks like a beige or white rubbery pancake. It's often called a 'scoby' which stands for ' symbiotic culture of bacteria and yeasts.The culture is placed in sweetened black or green tea and turns a bowl full of sweet tea into a bowl full of vitamins, minerals, enzymes and health-giving organic acids.

As the Kombucha culture digests the sugar it produces a range of organic acids like glucuronic acid, gluconic acid, lactic acid, acetic acid, butyric acid, malic acid and usnic acid; vitamins, particularly B vitamins and vitamin C; as well as amino acids, enzymes. And of course there are all the benefits of the probiotic microorganisms themselves. The Kombucha culture is a biochemical powerhouse in your kitchen.
Once I figure out what I am doing because I am new to this, too, I will post about my kombucha-making attempts. It's exciting to play with bacteria!