Valentine's Day Roundup & LinkUp
This post may contain affiliate links.
In advance of Valentine's Day, I thought I'd showcase a few of the Valentine's Day treats and eats I've seen floating around in just the past couple days. For a few weeks, I've seen so much that has me swooning, drooling, and wishing it was Valentine's Day preseason forever because heart-shaped things are just too cute. And they taste better, too.
Diane's Valentine Cake with a Surprise Inside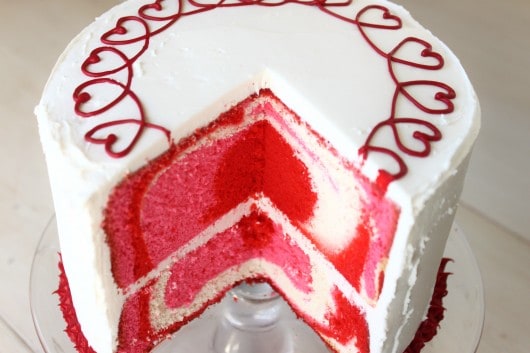 Christi's Valentine's Heart Cookies made in a Whoopie Pan
And she also has a Valentine's Day Roundup from Other Blogs that's fabulous
Jessica's Strawberry Nutella Poptarts
Tracey's Red Velvet Cheesecake Brownies
Deborah's Raspberry Surprise Chocolate Truffles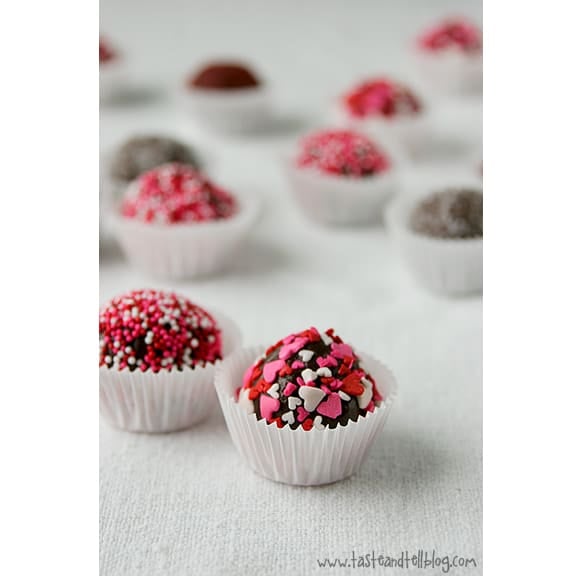 Lori & Cheryl's Red Velvet Swap Posts: Pancakes Here and Crepes Here
And Heidi's Valentine's Day Roundup post
Pinch My Salt's Heart-Shaped Egg in a Nest
Peanut Butter and Jelly Thumbprint Cookies (NoBake, Vegan, GF)
Strawberry Cake Mix Cookies with Vanilla Cream Cheese Frosting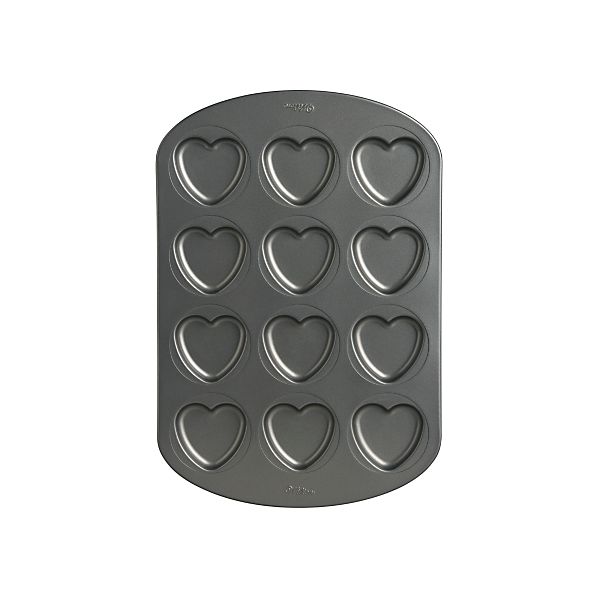 Free Heart Printables from Marla
And Marla's Valentine's Day Roundup Post
I could go on and on, but that should get you started.
What have you seen for Valentine's Day either in food and recipes, housewares, clothing, or other fun items?
What, if anything, are you doing to celebrate Valentine's Day? Are you celebrating this weekend or on the 14th?

We're not doing anything "special". We're not going out for a fancy dinner (typically with mediocre prix fixe food in an over-crowded restaurant), we're not drinking any wine or champagne, and there will be no long-stemmed roses and chocolates on the pillow.
Instead, there will be dinner at home (prepared by yours truly), apple juice will be as close to wine as we get, and instead of chocolates on the pillow, I may find some cookie crumbs or Barbie shoes.
And that's actually fine because I have no desire to go out on V-Day. I'd rather stay in, enjoy the peace and quiet and time with my two Valentines, Scott and Skylar.
I've also included a LinkUp so if you've made anything, seen anything, or want to link up anything Valentine's Day-related, feel free. Link up as many items as you want. Click on the Blue Button below to get started.
Happy Valentine's Day Weekend!
We are a participant in the Amazon Services LLC Associates Program, an affiliate advertising program designed to provide a means for sites to earn advertising fees by advertising and linking to amazon.com.