Time for an installment of Weekend Things:
1. I'm en route to Aruba and we'll be at our house there for the month of December.
We spend December there every year and by the time you read this, I'll likely have been up for about 36 hours and passed through many airports with a five-year-old in tow.
Red-eyes are well worth this view.
Daily recipe posts will continue, with more no-bake recipes, plenty of white chocolate, and maybe more banana bread recipes, which are things I seem to make in abundance when I'm there.
2. I was featured in a two page spread in the December/January print issue of Bust magazine.
They contacted me months ago about wanting to use my homemade Thin Mints (no-bake, vegan) recipe in the issue.
At the time I remember thinking, wow the holidays seem so far off.
But time flies and the holiday season is here, along with my recipe and name in the magazine.
Opening a print magazine and thumbing through it and seeing my name and recipe on the pages is both surreal and wonderful.
And a big thanks to Bust for the feature.
If you're looking for a hip, fun and fierce magazine with a bit of an edge, and one that proudly celebrates women with features and stories that go a bit deeper than 'Ten Tricks for Flatter Abs', check out Bust
.
3. Along with the homemade theme of the cookies, there's this Butter-Making Kit, $29.95 from Williams-Sonoma. Normally I am not into kits or anything that's gimmicky, and although you could assemble these items on your own, I think it's a fair price and the kit would make for a gift that keeps on giving.
You supply the cream and the kit can be used again and again for an endless supply of butter, for both a practical gift and one that connects us to how food is made.
4. And while you're at it, make some Homemade Peanut Butter – Ridiculously easy and fast and in less than ten minutes you'll wonder why you haven't been doing this all your life. It's world's apart from storebought
Or make Homemade Vanilla Extract – Much more cost-efficient and flavorful than storebought extract and mindlessly easy. The brewing cycle alive indefinitely by topping off the brewing jar as you use your extract and every so often swapping out for new vanilla beans
5. Square Paisley Appetizer Dishes, Set of 4 for $34 from Nordstrom, and they're ceramic not plastic
6. Raw Eggs – I don't know why this never dawned on me, but pasteurized eggs are safe to eat raw. Although people in other cultures eat raw eggs, Americans tend to be pretty uptight when it comes to ingesting them. Pasteurization to the rescue.
"Davidson's Safest Choice Eggs are pasteurized in our all-natural, gentle water bath pasteurization process to eliminate the risk of Salmonella. The vast majority of eggs sold in grocery stores are not pasteurized. Safest Choice™ offers peace of mind when making recipes calling for raw or undercooked eggs, and removes the worry of cross contamination. Learn more about our pasteurization process and find store locations."
7. Slow Cookers vs. Dutch Ovens – A conversion guide with pros and cons to each.
I have both and almost never use my slow cooker and don't use my Dutch oven nearly as often as I use my cast iron skillet.
8. The Huffington Post featured two of my recipes on Slide 2 and Slide 6 in the in their Gingerbread Recipes for Holiday Baking story
Molasses Triple Chocolate Cookies
and Cookie Butter Spread Ginger Molasses Cookies (No Bake, Vegan, with GF option)
9. Reclaimed Wood Coffee Table, $699 from Crate & Barrel – "At once rugged and modern, Seguro unites reclaimed Peroba wood with refined mahogany in a unique design. Solid mahogany supports form the table legs as they band the complex, rustic marquetry top. The inherent differences in the woods are heightened by contrasting natural and ebony finishes. Each table is unique."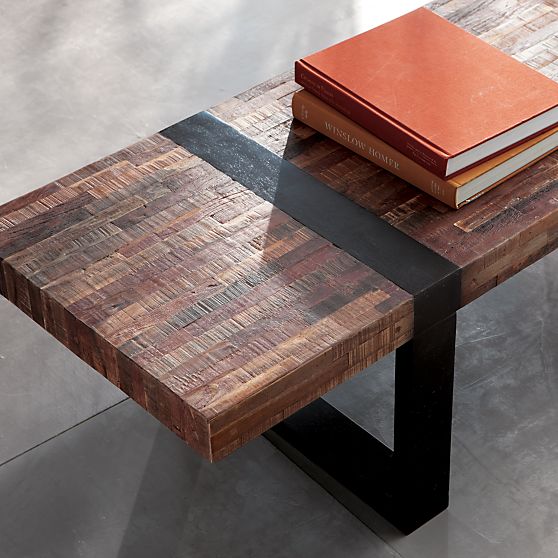 10. Gentle Folding Stops Tough Quick Breads and Brownies and these photos show the differences, and is why I remind everyone, myself included, not to overmix batter and dough.
The brownie on the left is a compact, tender, perfectly fudgy brownie with properly folded, batter.
In the center, the overfolded sample was relatively cakey and tough.
And on the right, the sample whisked with a stand mixer was 'the worst batch of fudgy brownies ever. They baked up almost twice as tall as the properly folded batch and offered serious resilience.
I never make brownies using a stand mixer, just a whisk, and I melt the butter in the microwave with chocolate, add the sugars, eggs, splash of coffee to enhance the chocolate flavor; flour, and whisk until just combined.
It's really the simplest brownie recipe and yields fudgy, dense, rich brownies every time. The recipe is as easy as using a boxed mix with far better taste. Nutella swirls and cream cheese frosting optional, but recommended.
What are your Weekend Things?
Do you use a slow cooker? Have a great pancake or brownie recipe? Ever made your own butter or are you making any holiday gifts this year?

If you've made anything, done, seen, or bought anything fabulous recently, feel free to link it up in the comments.
I'll be unpacking and getting settled into the island flow of life after a twenty-two hour journey to Aruba. Putting the key in the lock the first time after being away for months is always interesting because I never know what's going to have gone haywire in my absence. And then it's off to many grocery stores to obtain holiday baking staples, and of course, the beach.