What Caught My Eye This Week
This post may contain affiliate links.
I read tons of blogs. Tons. I wish I could put down the blogs sometimes and pick up my books more, but there is something so captivating about seeing what culinary feats and feasts people come up with, and it's instant gratification. Click, click, click. There is always something novel and great to drool over which is why I love reading blogs.
Here are a few gems I've seen this week around the sphere:
Paula's Nutella and Chocolate Chip Cream Cheese Party Dip
Caroline's Spinach Artichoke Dip with Feta
Helene's Mixed Berry Trifle with Almond Lemon Cake
Evan's Apricot Energy Marathon Bites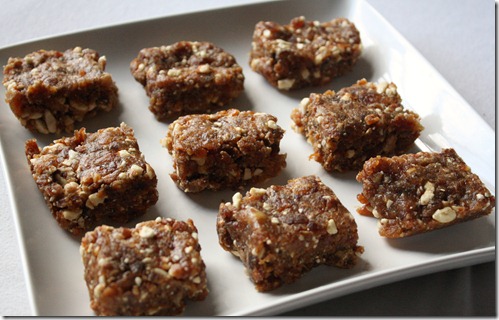 I love Balls & Bites and have a whole post of my own recipes and favorites.
Rachel's Nutella Fruit & Nut Bars
Need more Granola Bar Ideas? Check out my Granola, Granola Bar, & Oats Recipes Post
Joy's Butterscotch Pudding with Carmelized Bananas and Cream
I have a Vegan Bananas Foster recipe. Alcoholic, brown sugared bananas make my heart go pitter patter.
And my tastebuds weren't the only thing drooling this week. Here are some more cerebral gems:
Kath's Post on Lightroom and Blogging
Gena's Top 10 Tips for New Bloggers
Angela's Kicking the Pop Habit: 1 Year Later
From my last post about Big Produce, I'm glad to know I wasn't the only one who's noticed how big food has gotten. GMO much?
And always fun to hear about your must-have items at the grocery store and what you're more flexible on. Sometimes being flexible on things like Fuji apples vs. gala apples can save you a considerable amount of cashola.
All those posts around the sphere made me hungry for dessert. Maybe a No Bake Toffee & Chocolate Chip Cookie Dough Bite
Questions:
1. What blogs do you read? Why?

I love going to blogs with beautiful photographs. They make me go back for more.
I also enjoy reading not only "healthy living" blogs, but baking blogs, and what I'd call "traditional food" blogs. Blogs that use butter and cream and sugar and aren't afraid to cook with liberal amounts of it.
I may not make what they make or necessarily eat everything they do, but I can appreciate their recipes and passion for food and cooking. Usually these bloggers love to cook for the sake of cooking and appreciate food in all its glory, and can really cook or bake. The true "foodies" of the world.
For over a year, I feel into the trap of reading only the same types of blogs. The same 25 or 50 that many of my readers probably read but in the past 6 months or so, I've tried to break out of that loop a bit and branch out and read a wider array of blogs. I don't like to label my own diet, and similarly, I don't like to put a label on the types of blogs I read. And it's been great! I've loved really finding what blogs are out there, beyond just healthy living or healthy & fitness related blogs.
2. Have you discovered any great new-to-you blogs lately?
If you drop in more than 3 links, your comment will go into moderation.

3. Have you seen any recipes or posts lately that really have you inspired? What has caught your eye?
Have a great weekend!
We are a participant in the Amazon Services LLC Associates Program, an affiliate advertising program designed to provide a means for sites to earn advertising fees by advertising and linking to amazon.com.